23rd July, 2012|  Mr. Amit Asher, Vice-President of Unikaihatsu Software, meets Gujarat Chief Minister Shri Narendra Modi at the Investment Seminar of the Japan External Trade Organization (JETRO) in Tokyo

As a part of his 4-day historic trip to Japan, Gujarat Chief Minister Shri Narendra Modi addressed the Investment Seminar of the Japan external Trade Organization (JETRO) in Tokyo on Monday 23rd July 2012. Shri Modi spoke about the growing mutual ties between Gujarat as well as Japan and even invited more Japanese industries to invest in Gujarat. In the meeting Unikaihatsu Software has shown keen interest in expanding its business in Gujarat.

 
10th June, 2012|  Mr. Hitesh Asher, President of Unikaihatsu Software, felicitated on the occasion of 79th anniversary of Janmabhoomi newspaper
 Gujarati newspaper - Janmabhoomi

 

On the occasion of 79th anniversary of 'Janmabhoomi', chairman of Saurashtra Trust, Mr. Damajibhai Anchorwala, paid tributes to Late Mr. Amrutlal Sheth, key founder and editor of Janmabhoomi paper. While addressing to the employees of 'Janmabhoomi' paper, Mr. Damajibhai stated that 'Janmabhoomi' is an organization that gives prime importance to family values. He also felicitated brand expert of the newspaper, Ms. Barkha Dattani, for playing key role in giving a new look to 'Janmabhoomi'; Mr. Suraj Bhatt, the Web designer, for creating the new 'Janmabhoomi' website and Mr. Hitesh Asher, Mobile Phone App developer, for introducing Janmabhoomi paper on iPad & iPhone.
 
Note : English contents are translated from original Gujarati contents
9th June, 2012| Editorial on the occasion of 79th anniversary of Janmabhoomi newspaper
Gujarati newspaper - Janmabhoomi

 

Janmabhoomi' website builds a bridge linking the gujarati readers to their motherland.
 Along with the website, Janmabhoomi publications are also available on iPad & iPhone - feedback from the readers using such media highly inspires us.
 Our readers have daily access to - Janmabhoomi, Janmabhoomi Pravasi, Vyapar (Gujarati and Hindi version), Phoolchab, Kutchmitra, bi-monthly Kavita and yearly Panchang through these modern media.


 
Note : English contents are translated from original Gujarati contents  

(Gujarati newspaper - Janmabhoomi)
9th June, 2012|  Official Release of Janmabhoomi newspaper on iPad
 Gujarati newspaper - Janmabhoomi

Dear Janmabhoomi Readers, we are glad to present you a new website providing complete information related to Janmabhoomi papers which includes Janmabhoomi, Janmabhoomi Pravasi, Vyapar (Gujarati and Hindi version), Phoolchab, Kutchmitra, Kavita and Panchang-Astrology.
 On this website i.e. www.janmabhoominewspapers.com, detailed information of Saurahstra Trust's honorable trustees is made available. In addition, you can also find the E-paper and details of the various publications by Janmabhoomi Group. Currently, readers from all parts of the world are taking benefit of our website and from now onwards we have also made it more reader friendly. This website includes important information related to advertisements and the provision for the payment of annual subscription is also available. The services of Janmabhoomi's Astrology department can now be easily availed online and you can also enjoy the 'Kavita' magazine.
 Janmabhoomi papers are also available on iPad and iPhone. We are glad to inform you that readers from America, Australia and Europe have already subscribed in the trial phase itself.
 On iPad, your favorite newspaper opens instantly with a few taps and you can scroll through the pages as if reading a newspaper. You can use your finger tips to enlarge or reduce the size of news, pages, images etc. Janmabhoomi readers will get benefited through these revolutionary changes in the field of information technology.
 We have full faith that our readers will universally accept this new reformation and the facilities provided.
 
 Note : English contents are translated from original Gujarati contents
16th Mar, 2007|  Visit by Indian engineers to our company Niigata Soft Structure Co., Ltd.
 Tokamachi Weekly Bulletin

They are young IT engineers who have recently completed their graduation. They are dusky, healthy, Possessing clean-cut features and very handsome. India is an IT superpower supporting America's IT industry, however it is said that 90% of Indian engineers  aim for America while 10% aim for Japan. India is an English- speaking country where English is majorly used as an official language and hence aiming for America is inevitable.

Our company a conducted a survey this time concerning how the technical skills of these engineers can be used and what difficulties are encountered for the same was conducted. Further it was decided to survey whether the explanation of the contents of work to be performed by these engineers was appropriate. How they felt to actually work in our company environment where English conversation is not possible. Further, whether the Indians would be able to live in the snowy Tokamachi for a short period and aiming that this time we would mutually resolve all the problems that arise. If good work is allocated, then these Indian gentlemen will surely help us after returning back to their country. Now if high-speed data link is used, the distance between India and Japan shall cease to be a problem. Further, there are many more positive points. There is a time difference between Japan and India, and still approximately it is around (8 hours).If a work is given then it must be completed in a day or by the next morning. If utilized properly the work can be completed by 24-hour schedules. Such manner of utilization is also exists. The elite team of 4 comprises of a 30 year old team leader and 3 team members aged 22~23, all of whom have majored in IT technology. When it is was decided to organize a welcome party, plus being vegetarians from different religious backgrounds, they said that they couldn't consume fish, meat, beef products and Osake. Wonder what they eat for survival? Do they drink water ansd juices to survive? We could not understand how and what type of welcome party should we organize? The Japanese style Indian curry includes meat and hence the engineers would not be able to enjoy it. The welcome party was postponed for some time while searching for a restaurant offering vegetarian fare.

While passing through Tokyo, as a condition, we were told "We would cook our own meals if provided with a house equipped with futon, refrigerator, gas range, utensils and heater" In case one is aiming for good training, good will can be earned, and with it one nice house could be found. Since the house was considerably old it's repairing and cleaning was done. Infrastructure such as Sliding door, sliding screen, electricity and gas, water line was put up, a secondhand refrigerator and washing machine was arranged, and the interior of the home was cleaned to welcome the guests from India. Once these preparations were over the Indian gentlemen arrived guided by the president. We had worked hard on the preparations but at that particular time we were anxious whether the preparations were really good. On having a quick look at the guests, at glance they seemed to be moderate, but from their expression it seemed that they were satisfied. Their luggage was heavy due to the tightly packed special curries, flour and other eatables that they were carrying. The area of the room is 4and half "tatami" but has a room for each person, attached living room, dining room and toilet .The floor is a little bumpy but we requested them to bear with it. The futon, blanket, and 4 pillows, the entire room is well equipped with new products. The Kerosene stove has not been provided for because of fire hazard. The heater is of the foot warmer variety. Entering the home with the shoes on, walking over the "tatami" from the corridor with the slippers on seemed to be strange. Luckily all the guests were already lingual with Japanese language and hence could converse in rudimentary Japanese. Especially a gentleman said that he was working in Japan for 6 years in IT related field. That was the most helpful thing. We immediately went to the primary school in the vicinity where we were cheerfully welcomed by the Principal, Vice-principal and were offered tea etc. The gentlemen were asked 2-3 questions by the children and they also talked about the country and taught some games to the children and requested for global education. They also went paid cordial visits to the houses of mayor, chairman of development and promotion in the vicinity of their accommodation(Here also they were served tea. they ate light refreshment of sweet jellied adzuki-bean paste but did not eat scallop eyes)but still continued their visit. When told that the Buddhist altar is considered to be god in Japan, they informed us that it is known as Buddha in India. Seeing the foreigners walking with us the neighboring people were all dubious but later after knowing them everybody felt relaxed.

The distance from the accommodation to the company is 5 kilometers. Our company employees pick and drop them as they are cannot drive. On the first day of the office they introduced themselves in front of all company employees. They introduced themselves in an easy way by saying their names but the names could not be mentioned here as I am not well acquainted with those names. Our company employees were a bit tense.

They were tense whether their Indian counterparts would be able to understand the language and be able to converse during the meeting in Japanese. In the course of discussion, we came to know about their technical knowledge, language proficiency and work experience. It was a skilled technical group. They were able to deliver quality work in spite of not being able to converse in fluent Japanese. Considering that they were going to be our work partners for the next 2~3 months, it would be a good study for both sides.

These days broken English is making the rounds in the company. This survey has been done with risk within a short period of time I do not know whether this article will emerge as an informative article for holiday shopping, guidance for sightseeing, discussion about life etc, but this was meant for creating a good impression on the town of Tokamachi. I have tried to make an insignificant contribution from my side. The technical training between the two countries has finally commenced. I eagerly await to see my company progress
 
Note : English contents are translated from original Japanese contents  

(Tokamachi Weekly Bulletin)
[toggle state="" title="22nd Feb, 2006|  Entry of Japan Money too! The "Indian Stock" boom has started
SAPIO"] 


The sudden growth of the Indian economy is attracting a lot of attention. But among all that the stocks are the most remarkable sign of the excellent condition of Indian economy. Presently, the stock quotes are continuously rising, and stock investment fever is on the rise. Apparently, the "Indian Stock Boom" is not only the center of attraction inside India but also in the foreign countries. Currently, a vast amount of money from the individual investors of Japan has been flowing in through Indian stock investment funds. And through the actual Indian Securities market transactions, and the voice of various people related to the stock market, we will be reporting about "India, the Awakening Giant Elephant" which was never reported till now.
Do you know where is the world's oldest Securities market situated? Mumbai, a city embracing a population of 16 million, is the hub of Indian finance and commerce. The "Mumbai Security Market" was established 131 years ago. This is it, it's the oldest Stock market of Asia. In Japan, the Tokyo Securities Market was established in 1878, 3 years later.
Rajnikant Patel, CEO of the Mumbai Securities Market said, "This stock market was setup by a few brokers gathered under a lime tree.[/column][/row]

Upper right -Stock Exchange Center, Mumbai; Upper left -Rising of Stock Price Index Lower Right-National Stock Exchange Center, another big Stock Exchange Center like Mumbai; Lower left-Indian Finance Company
 Basic data about India: [area]: 3,287,263 km [Population]: 1 billion 27 Millions 20 thousand (2001) [Religion]: Hindus 82.75%, Muslims 11.2%, Christians 2.6%, Sikhs 1.9%, Buddhists 0.7%, Jains 0.5%, [Literacy rate]: 65.4% (2001); [Parliament]: Bicameral (Legislative council 245 seats, National Assembly 545 seats); [Major Industries]: Agriculture, manufacturing industry, mining industry, IT industry; [Rate of GDP growth]: 6.9% (2004), [Rate of increase in consumer price index] 3.9% (2003); [Foreign Currency Reserves]: Approximately 136,300 millions dollar (2005); [Stock markets] Around 23, but more than half of trading is carried out in the Mumbai Stock Exchange and in National Stock Exchange. The number of registered stocks is approximately 5,700 companies. (Created by the editorial department based on Foreign Ministry data etc.)

Long ago India was a colony of the British, with vast cotton fields on the Deccan plateau. As the base for exporting the cultivated cotton, Mumbai developed as a major port town. At the same time, the shares of the industries flourishing due to the cotton production were speculated, and the share brokerage of this became the base of starting the stock market. Mr. Patel, the man leading the Mumbai Stock Market, which is the largest market in India and the oldest in Asia, welcomed us to a room on the top floor of a conspicuously tall building even in the midst of the stock market town. "We are putting high hopes on the investment from the Japanese people. I think that investing in the Indian stock market right now is the biggest chance to gain maximum profits", Mr. Patel said.

The Indian Stock Investment Market of Japan has grown by 110 times in 1 year
India simmering with the stock boom Recently, the stock value of the mainly registered companies has been rising up to 25% to 30% as compared to the previous year. At the end of the last year, the major stock index, "SENSEX" rose above 9000 points, which was approximately 3 times as compared to 2 years earlier. (Refer to Graph A)


In India, online trading of individual investors has been flourishing mainly among the younger generation. We heard a lot of things like "There are people who purchased houses through stock trading", "There are a lot of people who watch the chart during their breaks at work". One of my friends, who is the owner of a venture company, said, "I bought the shares of banks that provide loans to consumers, and communications industry". Not only the Indian investors but the foreign investors are also focusing on India. The attention towards the Indian stock has suddenly increased after the report of Goldman Sachs was published stating that, "At the moment, "BRICs" (Brazil, Russia, India, China) are focused as the significant markets that would exceed the developed countries till mid-century "(Osugi Shigeru, Public Relations Department, Okasan Securities Co., Ltd.,). Especially, the prediction that "As per the country based economy size of the year 2050, India will overtake Japan and become number 3", has had a great impact on the investors of the world (Graph B).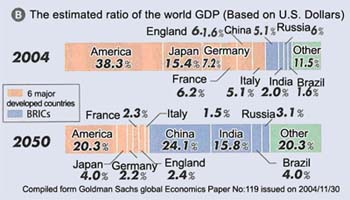 In addition to the excellent economic growth of India, relaxation of regulations such as the reduction of tax rates on capital gain of foreigners, etc. has largely contributed.
The money from Japanese individual investors is also coming towards India. The value of Indian stock investment is 460 billion Yen, which has grown to almost "110 times" in 1 year. In September last year, the "Asian Information center" which is focusing on Asia, has opened Okasan Securities in Toranomon. The Indian stock values are lighting up the Electronic bulletin board in this establishment. "This is the first attempt of its kind in the world, where we have received formal approval of the Mumbai stock exchange, and have been displaying the Indian stock prices on a large screen in real time", the staff said confidently.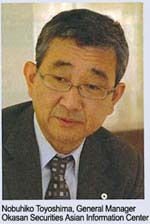 What is the secret of the popularity of the Indian stocks?
Nobuhiko Toyoshima, General Manager of Okasan Securities Asian Information Center, indicated that, "Not just the IT industry, but there is a huge rush of constructing huge shopping centers in the city, at the moment. A consumer boom of buying cars, big screen televisions, home appliances, houses, etc. is breaking out. Until now, the Indians never believed in buying things with borrowed money. However, recently, there has been a sudden change in their attitude, and a lot of people have started using consumer loans casually, resulting in a spurring increase in the consumption" With a population more than 1 billion, just the middle-class population with buying power is 300 million. It is said that a company selling durable consumer products in such a huge market is bound to be successful. "Other than that, actually in this country 1 out of 4 people has congenital diabetes, there is also a lot of emphasis on research and development of pharmaceutical products. The biomedical companies of India have a huge potential and are one of the significant stocks."
Moreover, he indicates that there is also a "geopolitical" factor as the merit of the Japanese people buying and selling Indian stocks.
"The time difference between India and Japan is just 3 and a half hours. Thus the fact that the trading can be carried out easily when the market is still open is greatly advantageous over Europe and America. "However, presently, individual foreigners cannot buy Indian stocks directly. Fidel Investments Company, which is an investment management company for Japanese people, started by Indian entrepreneurs with an aim of providing the information on Indian stocks to Japanese people in more detail, said, "Stocks can be purchased only through investment trust funds or ADR (American Depository Receipt). However, shortly, direct investment would be possible. "Our company wishes to help the Japanese people in their trading, by conveying to them, absolutely precise information that big trading companies or media organizations don't even have."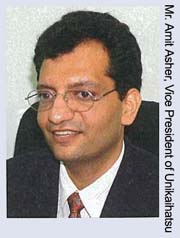 Participating in the country's progress by proactively attracting investment from foreign countries   
The Indian stock market seems to be in an excellent condition. But aren't there any risks. For example, a status discrimination system of its kind called "Caste discrimination" has been pointed out as one of the factors hampering the economic growth. So what is the actual situation?
Mr. Amit Asher, Vice-president of Unikaihatsu Software, Mumbai told us that, "In the IT industry, the conditions are rapidly changing. At least in companies like ours, recruitment is done on the basis of potential, regardless of caste." There might also be a change even in the hierarchical system in the high-tech development field.
What about the problem of "Labor dispute" that has been continuously reported, recently. There was a huge outbreak of labor dispute in July last year in the two-wheeler factory of Honda and in January this year on the production site of Toyota. In the Honda labor dispute,a number of casualties were reported, and the Toyota factory was closed down indefinitely, this turmoil was also reported in Japan. In India the Labor Union is very powerful and strikes are a common occurrence.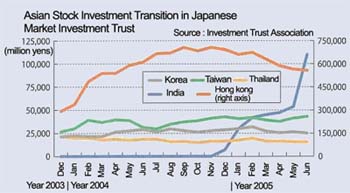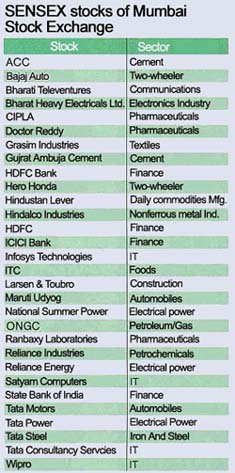 "Being the largest democratic country in the world, discussions are an important part of everything, thus the fact that a lot of time is consumed is also another problem. The nationwide infrastructure is undeveloped, but deciding the road plans etc. will also take time", (Nobuhiko Toyoshima, General Manager, Okasan Securities). Definitely these are causes for concern related to the business activities or the stock prices. But, at the same time, the momentum of actively increasing the facilities for welcoming companies or providing free trade zones for economic growth is increasing all over India. The frenzy anticipation towards the economic growth is outweighing the causes of concern, and speeding up the investment in Indian stocks. Presently, the Indian government is trying to raise the funds required for the development of the country through the stock investments from foreign countries. These funds will not only be utilized in the manufacturing industries but also in government-ruled companies like infrastructure, etc. India is trying to get into the second phase of growth. Huge amounts of capitals are sure to flow in by opening the stock market to the world. When such a time comes, the steps towards the actual growth of the almost awakening elephant, is all the more going to gain momentum.
[Writer's PROFILE] Born in 1962 in Tokyo. A graduate from the Literature department of Waseda University. Interested in the changes in the Social bodies and Society, Research on Plastic Surgery, AIDS Problem, Five Senses, etc. Awarded the first Shogakkan Grand prize for nonfiction. Has written many books like [Shawn Aids Awareness Activist]. [Jidai o nokku suru oto/The sound that knocks the Era] (Mainichi Shinbun), [India, Midnight Tripper](Information center- Publication Division), [Gokanseikatsujutsu]/The science of living through 5 senses(bunshunshinsho),[<Gokan, saisei><5 senses>towards reliving] (Iwanami Bookstore), [Toshi no idenshi/Genes of a city] (NTT publications) and many more. [Yu's Journal] http://www.yuzumi.com/.
[/toggle]
[toggle state="" title="  1st Jan, 2006|  The Cutting edge "Metro" and The God's Cow
Yomiuri Weekly"]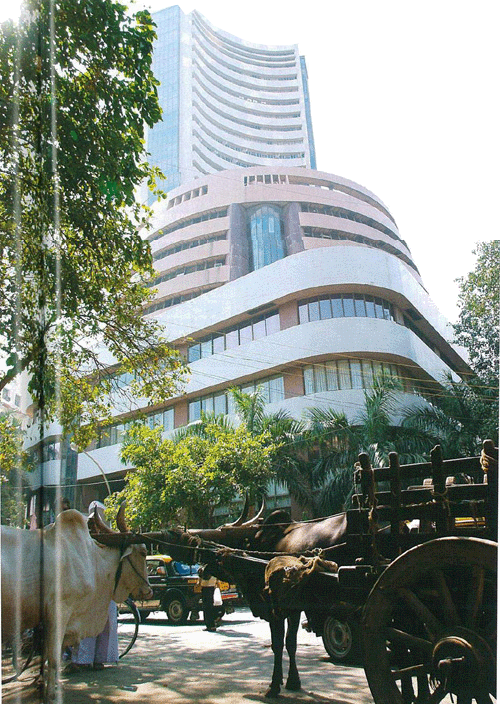 Though India is known as one of the major countries of Asia, it had always seemed to be a bit too far for the Japanese till now. The general image would be somewhat like "A place where Gautam Budhdha was born", "Curries and elephants", "Full of people with turbans". However, the same India is presently the center of attraction to the world due to its sturdy growth of the economy. Its relationship with Japan is also changing substantially. A country that is moving towards modernization very rapidly and an everlasting/ancient country, I have seen both the faces of India.

Article/Photos Non fiction writer Yamashita Yumi
 Support/Photos Gokan seikatsu Research centre Katano Aki
 Support in coverage  Anil Sharma

Aren't there quite a few people these days that have been getting the chance to visit the India? Surely, the topic of conversation continued in 2005. The news about Mr. Koizumi's visit to India, the visitation of the officials of Nippon-Keidanren, diplomatic and economical articles, major feature segment about India, etc. have been frequently decorating the magazine covers. The Indian stock market is also attracting international attention, and the stock rates are rising dramatically. The individual investors of Japan are also not an exception. There is a rush of individual investment in the stock investment trusts, and there have been news that during this year has gone up to an impressive 110 times (Till October End). In this kind of a backdrop, there underlies "a possibility of a huge Indian market and an economical growth". India has been maintaining a 7% GDP (Gross Domestic Product) growth rate, and it is progressing with an increasing investment in the consumer products sector and in the facilities. India, which is in top condition, is symbolized by the IT (Information technology) industry.



Mr. Amit Asher who manages IT SOFTWARE COMPANY in Mumbai says, "Most of the people know that the population of India is above 1 billion and is the 2nd largest in the world, but more than half of the population belongs to a young age group of below 25. The huge numbers of working people that take on the next generation also indicate the potential of India as a future country." When we think of Japan with an aging society and a declining birthrate, where the layer of age group below 25 is only a 25% of the entire population, the difference between their vigor and ours is quite clear. Mr. Asher showed us the comparative sales record (graph) of offshore (onsite development) of software of the world. We can easily understand in one glance that India is in the leading position. "Especially, since in our case 70% of our total work is software development for Japanese industries, so we have also named our company in Japanese."

Note : English contents are translated from original Japanese contents  


A strong attitude of expanding business by focusing its target on Japan is quite understandable even from the company name "Unikaihatsu". By dealing with developed countries like Europe and America or Japan, the earnings of the IT industry undertaking software development are increasing rapidly. The result of this, the layer having purchasing powers is increasing, and the expenses/consumption charges are rising.
Certainly, I came across a lot of phenomenon that could be called as "outburst of expenses" while walking around the capital Delhi and the commercial city Mumbai. People incessantly talking on the cell phones, young people immersing themselves in the brand stores, the roads are overflowing with motorcycles and private cars. Moreover, presently shopping malls are rapidly increasing all over India. On our visit to "Ansal plaza" in the suburbs of Delhi, we saw a lot of women wearing jeans and T-shirts with the bare midriff look.

  Note : English contents are translated from original Japanese contents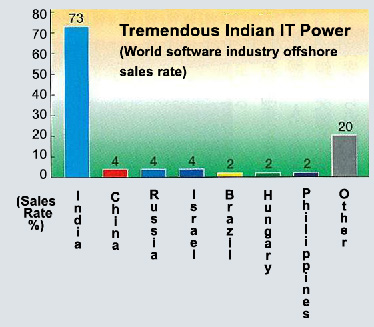 It is a modern structure of 4 floors having a cluster of fast food joints, brand stores, music software stores. There is a huge statue display right in front of a circular opening that is resonating with rap music. Suddenly, you forget that this is India.
 
  Note : English contents are translated from original Japanese contents
    
The progress of stray cow removal strategy 
But, on the other hand, India is a country where we can see unchanged eternal scenery.
For example, cows napping besides a busy road can be seen. It is a really unique scene.In Hindu religion, cow is God's vehicle and is considered as a guardian. In India, it is quite normal that stray dogs and cows are freely strolling in the city. However, in recent years, as the number of vehicle are increasing, the reason that that these animals cause traffic jams has made it necessary to take actions. On 5th May 2005, Supreme Court ordered the municipal authorities that cows should be removed from Delhi. I heard that the prize money per cow was Rs. 2000/-. But still I saw that cows were freely walking on streets.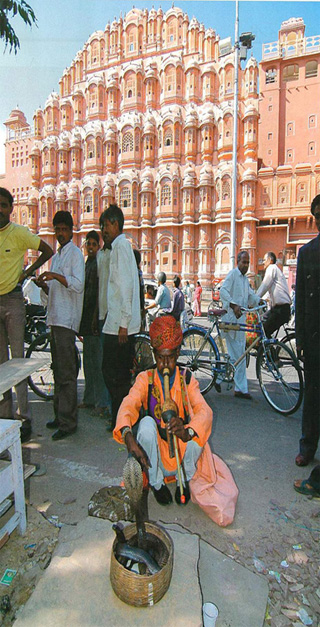 "The cows are also living beings. According to the people of the city," It returns to the place where it is most comfortable, isn't it?"
It is an image that shows the coexistence of both the "promotion of streamlining" which is the most important prerequisite of modernization, and respect for all living things. On the roads of Delhi, you find unique traffic symbols like a red line drawn across the pictures of elephant-carts or horse-carts. My Indian friend told us it's meaning, "Walking of animals is prohibited on busy roads."
"No matter how much the vehicles increase, elephants or horses or donkeys are important animals that support the labor. It is still very natural in India that they walk along with the humans."
Certainly, he is right. Even in front of railway station of Pune, which is famous as the "Academic city", we came across an elephant that was working. Cows, elephants, horses or camels live with the human beings as members of the society. This is the unchanged state of "Eternal India".
Now in Delhi, cutting edge subway called "Delhi METRO" reflects the "Transport Modernization". Line No. 1 and No. 2 have already started and very soon line No. 3 will also be started also. This subway that relieves the traffic congestion of the city, was financially supported by Japan. The train that arrived at the platform was dashingly colored in silver, equipped with lightening, notice boards, automatic ticket checker and was just on time.
But, scenes of an ancient town above the subway stunned us.  
Smell of spices floating on the narrow alley, resonant voices of people, horse-carts, laborers bearing luggage on their shoulders, and people, people, people, everywhere.
A cutting edge transportation system on one hand and an ancient city market on the other. The gap between these two is tremendous. It would be at the most 300 million people if rich class and middle class are combined together. I also heard a few things like, "the remaining 700 million people's standard of living is not improving at all."  

  Note : English contents are translated from original Japanese contents
    

Great tips even to a snake charmer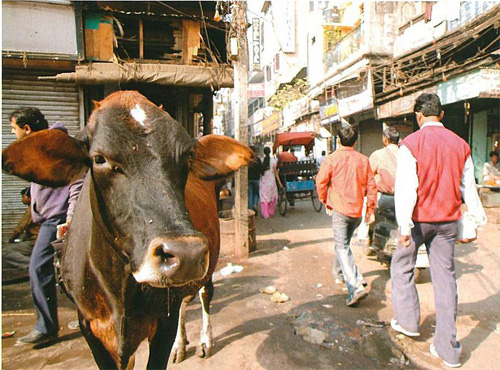 Until now, tourism industry is said to be the most important one in earning foreign exchange. There are 26 world heritage sites in this wide country, the country has a wide variety of religions and festivals, historical buildings and handicrafts. India is full of tourist attractions.
We headed towards Jaipur, a castle city that represents the eternal image of India.
Jaipur is situated around 260 km from Delhi at the gateway of Thar desert.
Jaipur is also known as the "Pink City". This castle city was built around 300 years ago. The site of camels walking calmly, with a rampart of rose pink in the background is so beautiful that you feel time has stopped.

  Note : English contents are translated from original Japanese contents

The palaces where Kings or Maharajas used to stay, are now open for tourist forever.
On a street corner of Jaipur city, we came across a snake charmer. The snake charmer was quick to notice a Japanese with a camera, and he quickly opened the lid of the basket and started playing the flute. A big Cobra appeared from the basket, twisting its body showing its scales uncannily. Of course after that he demanded for Rs.100.  
The tip was not even 300 Yens. But it is several times higher than 10 years before. This may also be one of the "Inflation" phenomena that follow the economic growth.

Tajmahal and Electric automobile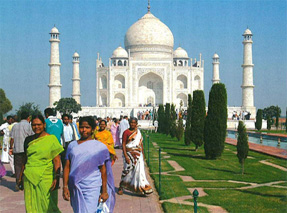 In the modern age, air pollution and environmental pollution are big problems. In the urban areas of India, diseases of the respiratory system, etc. are increasing due to air pollution by exhaust gases. Not only this. Even India's famous world heritage, chalkstone mausoleum Tajmahal's marble stones are being dulled by the air pollution and exhaust gases of vehicles. Since Indian Government has prohibited gasoline-fueled vehicles within 500 meters of area, at present there is no other way to visit Tajmahal other than by electric automobiles or horse-carts, three wheeled cycle rickshaws or on foot. Keeping the environmental problem in mind, electric rickshaw (electric three wheeler auto) has been introduced for the tourists. With the increment of revenues along the years, the Indians can now easily possess things that they want. Flat TV's, air conditioners, etc. are selling tremendously.  
On the other hand there are countless statues/images of gods on the street corners. They spend day and night praying to these Gods. That symbolizes that the purity of religion in India. My Indian friend said quietly while nodding his head, "People having unbelievable amount of money might be soaring high. But I believe that they still carry the unaltered India in their hearts."
India is a country, which has a mosaic of both, eternal India along with rapidly changing India.
Next time we will introduce the changing lifestyle of the Indians.  
(Continued)....

 Note : English contents are translated from original Japanese contents  
 (Yomiuri Weekly)
 [/toggle]
[toggle state="" title="20th Dec, 2005|  Indian Power is amazing!
Shiraishi Foods Industries Co. Ltd.'s Director's Blog"]

In the morning edition of Yomiuri Newspaper of 17th December, in the 5th "The unexplored land" Japan 1 out of 12 million messages [Entrepreneur Edition], an article about Mr. Hitesh Asher of Unikaihatsu Software Pvt. Ltd., where my company's software is being developed, has been published.
http://www.yomiuri.co.jp/e-japan/tokyo23/kikaku/006/6.htm
And the company URL is http://www.usindia.com/j/jhome.htm

Initially, driver software for the communication part of JCI procedures of Electronic ordering system (EOS) related to distribution for supermarkets, etc. and recently Voucher auto-reader machine software (OCR) was developed for us. The person in charge of the development was a lady wearing a Sari, and she completed the work as per the specifications in no time. Though the Japanese organizations are big, they are full of people with deadheads, so it is better to get the software developed by Indian software companies who are very capable as compared to some of the big Japanese software companies.
Anyway, this company's president speaks fluent Japanese and even the e-mail communication between us is in Japanese. Earlier, when he came to Morioka, I saw a computer presentation of the Japanese Language Educational activities of this organization. Even in the Indian office, the level of the Japanese that the employees are learning is quite high and those who are highly capable are being taken up by Japanese organizations.
Once, Mr. Asher visited my company with three of his employees. At that time I came to know that in his organization, people from various religions like Hindu, Sikh, Zoroastrian, Islam, Buddhism are working together. Some people are vegetarian and I was surprised to know that even the food is different depending on the religion. In India there are roughly 4-5 main languages among several hundred languages. India's cultural variety is amazing.
I borrowed a Japanese book about India from Mr. Asher. I was surprised to know that in summer it exceeds 40-degree temperature in places like Mumbai. And if canned food is not kept in the refrigerator, it will explode due to the heat. In Japan we can't even imagine this heat. Also there are frequent voltage fluctuations and power failures. Also, caste system still exists in India.
With these unbelievable circumstances, India is responsible for the expansion of Buddhism in Asia, the invention of "zero", two digit multiple table read by an elementary student, producing people like poet Tagore, Gandhiji, film director Satyajit Ray, etc., atom bomb, development of artificial satellites, millions of illiterate people, India is equal to China in the American San Jose IT industry and excellent masters are returning to India for making a powerful country by industrializing cities like Bangalore etc. And for your information, the famous speaker brand BOSE, Hot Mail which has been purchased by Microsoft, Netscape Browser, Cirus logic that is famous in DSP Chip are all created by Indians.
India is a large country equaling China and after 50 years, population of India will exceed the population of China. Since India has excellent manpower, it is necessary to pay close attention to India along with China.
Henceforth, for Japan, which does not have much of diversity and to retain the economy superiority, it looks like good relationships with India and China will be maintained. Both of which possess ammunition industry, nuclear missiles and are just a little bit aggressive.

 Note : English contents are translated from original Japanese contents  
 (Shiraishi Foods Industries Co. Ltd.'s Director's Blog)
[/toggle]
[toggle state="" title=" 17th Dec, 2005|  Number 5 "The unexplored land" Japan,
Yomiuri Online"]
Challenges of India, the Software Superpower  
---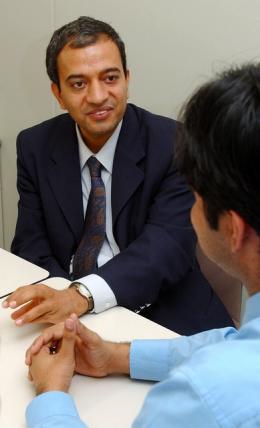 The Japanese Information Technology industry is attracting great attention from Indian industry. According to them, the "Unexplored land-Japan" is also a prospective market. Young entrepreneurs of the world looking forward to being successful in Japan are moving to Tokyo.

On the 8th floor of a building quite near to JR Ebisu station, behind the doors is a software development company with approximately 50 Japanese engineers. And situated in one corner of the same is the "Office" of Mr. Hitesh Asher (37) from India.
"Welcome. I am using a table as my office in my friend's company."
He speaks Japanese quite smoothly. This is the Japanese branch of "Unikaihatsu Software" a Japanese software development company. For the president, Mr. Asher, this is the invaluable "Tokyo Base".
They undertake software development projects, etc. of sales, inventory management systems from Japanese companies. Around 10 employees that can speak Japanese carry out sales and high level design by going to the clients location situated in various parts of Japan, supported by approximately 50 engineers from the head office based in Mumbai, where the software is developed. A high level of technology at half the development cost. Mr. Asher is taking the front as a leader.

Born in a middle-class family in the suburbs of Mumbai. Father was a manager of mango plantation. He had great interest in mathematics and that helped him to become a technologist.

The turning point in his life was 22 years ago, when he heard the experience of an engineer working in a major electric-appliance maker of Japan who was visiting his school. Japan, after its defeat in the war has shown an astounding recovery, producing state-of-the-art electrical appliances like color televisions, etc. one after the other. These people from the Far East are so polite, kind…. This youth of 15 years of age was very excited. "I will test my strength in Japan someday." He chose Computer Science in University and even joined a Japanese language school.

After graduation, he joined Tata Consultancy Service (TCS), one of the biggest organizations of India and visited Japan for the first time in 1991, and spent 2 years working with Japanese people for the same company.

However, he started feeling increasingly lonely amongst the Japanese people who are very cautious with foreigners. So to adjust in the Japanese society he began communicating with his neighbors and colleagues with a positive approach. Though he was a vegetarian, he shared beef, chinese noodles etc. along with his Japanese colleagues in company canteen and gradually became friendly with them.  

"Indian Software development has been mostly for America. But we want more work from Japan." In 1996, he left TCS and started his own software company in Mumbai with his younger brother. And based on the business records he got the opportunity to expand his business in Japan while building a network of Japanese connections. And on 9th September 2001, he setup a new office in Tokyo and from April of this year, he has been staying in Japan with his family. His wife Mrs. Anita Asher said beamingly, "I was very surprised when I heard that we will be shifting to Japan. But my husband wanted to take up this challenge. I think it is an adventure for me."

In 1990, the software development industry of India grew quite rapidly due to the orders received from Europe and America. Presently, it is the main export item. According to the [Indian IT Club] there are approximately 70 companies in Japan with a total of approximately 5000 engineers that are residing in Japan. From the point of view of the Indian industry Japan is still 'unexplored land'. Entrepreneurs like Mr. Asher are coming to Japan one after the other.

"The first thing in Japan is human relationship. Once trust is built, business or technology can be discussed. As per my experience, we cannot be defeated by any other company." Mr. Asher was brimming with confidence.

  Note : English contents are translated from original Japanese contents 
  (Yomiuri Online)
[/toggle]